How can I check the balance on my wallet?
Summary
Cryptonow allows both technically savvy users and beginners to check the balance of their crypto wallet on the blockchain in real-time. This can be done through a user-friendly website feature or by using third-party Internet blockchain explorers.
Do you want to check your crypto wallet balance directly on the blockchain? Many platforms are complex and highly technical. However, Cryptonow offers its own user-friendly solution to check the balance of your Cryptonow wallet or other third-party wallets directly on the blockchain.
Cryptonow - Easy Check Balance Tool
We provide a simple and user-friendly feature directly integrated into our website. This option allows you to track your wallet balance on the blockchain without technical barriers.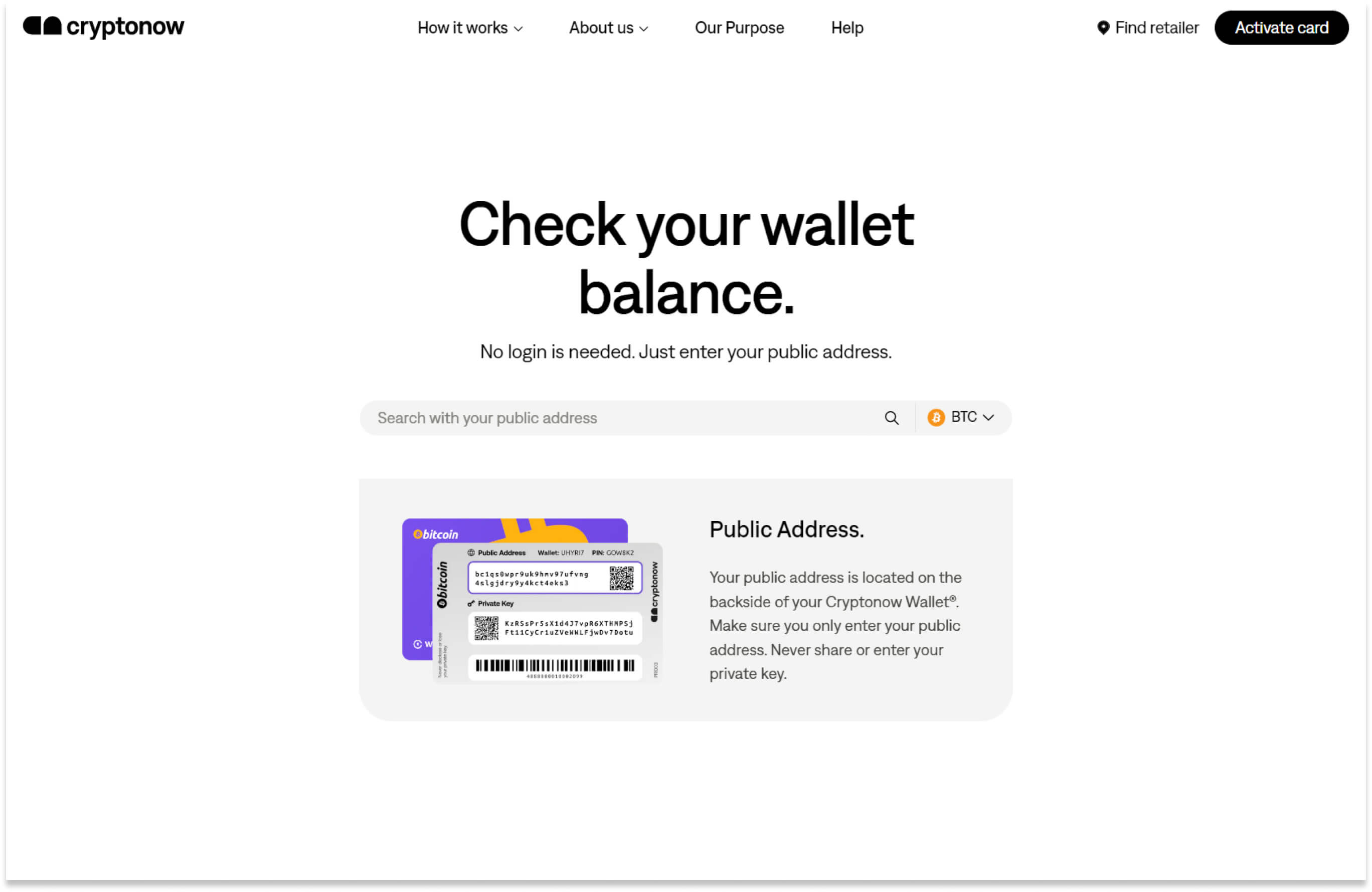 Enter your wallet's public address, or if you're using a smartphone, you can also scan the QR code of the wallet's public address.

Click "Enter," and you'll instantly see your wallet's current balance directly from the blockchain.

Please note that if you've just activated your voucher card, it may take up to 90 minutes for the transfer to be confirmed by the blockchain. During this time, your wallet may display a balance of 0.–. If the balance still shows 0.– after more than 90 minutes, please contact our support team.

Blockchain Explorer (Third-party)
There are several third-party blockchain explorers you can also use to check your wallet balance directly on the blockchain. We've listed a few blockchain explorers here. Please be aware that using these blockchain explorers is at your own risk.
Bitcoin: https://blockstream.info
Ethereum: https://etherscan.io
Solana: https://explorer.solana.com

Polkadot: https://explorer.polkascan.io/polkadot
Avalanche: https://subnets.avax.network
No matter which option you choose, always make sure never to enter your private key in the search field. Only the public key of your wallet is required for checking the balance on the blockchain.